It all started with Jason Statham. Next was Ryan Reynolds. Now Lizzo is the latest celebrity to tackle the Bottle Cap Challenge.
Mariah Carey and Kendall Jenner are the most recent celebs to take on the challenge, but it was taekwondo champion, Farabi Davletchin, that started the entire movement.
Other celebrities may have set out to nail it, but that didn't happen for Lizzo – and we love and respect her so much for attempting and sharing it!
What are the Rules?
They are pretty straightforward. To do this one, you'll need a bottle, the cap to said bottle and a friend to help you out. The point is to remove the loosened cap off the bottle, with a roundhouse kick. Oh, and the bottle can't topple over. So basically you only want to hit the bottle cap – not the bottle or your friend who has decided to help you do this crazy challenge – so a certain level of accuracy is necessary.
OK, back to Lizzo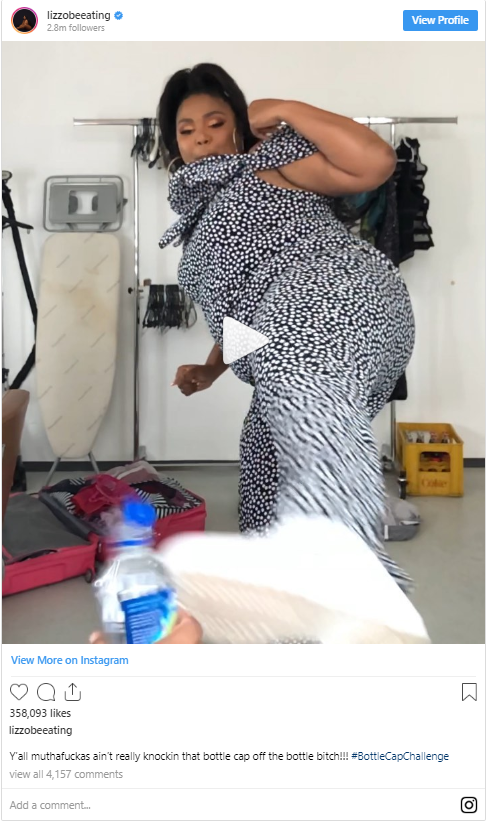 The challenge has obviously been going crazy on social media, and as it was Lizzo's turn to kick the cap off the bottle, we knew we'd be in for a treat because her social media, in particular Instagram, is always hilarious.
She did not disappoint. This is probably the main reason her Instagram followers are increasing by the day.
The breakout artist tries to kick the cap and misses the entire thing completely. Want to see her miss broken down? No problem, as she does it again, but this time in slow motion. The roundhouse kick actually connects the second time, but instead of hitting the cap, she kicks the bottle right, which is full of water that goes flying into her friend's computer.
Lizzo is great because she never appears to be anything less than genuine, and that's why her fans love her and she has been enjoying such a stellar year in the mainstream. The R&B artist has quickly become the newest "It Girl" rocking the crowds of Coachella with body-positive anthems and unapologetic girl power. Her well-received album "Cuz I Love You" was released in April.
Great Big Story reports the star saying she wants to see "tons of plus-size pop stars" and "black girl magic". It's safe to say we all want to see more of both, especially if Lizzo is going to be the one ushering a new wave of artists in because she is fabulous.
She recently told Rolling Stone that she is on her journey of being unafraid to show her true self and being vulnerable.
Even her social media posts evoke the proud, vocal spirit she talks about. Lizzo is constantly posting videos of her twerking while playing the flute (she's a master) and showing women of all sizes that they can be confident and loving toward themselves in whatever they decide to step out the house in.
Whether she is soaring on the charts or failing at the latest viral challenge, Lizzo is the reigning queen of music and Instagram these days.